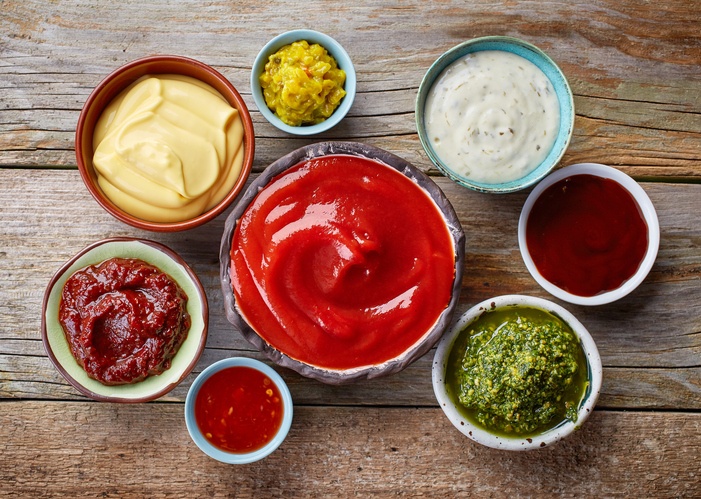 Good quality food products will attract and keep customers for years. Paying attention to the small details of your stock can make a big difference between average sales and consistently higher numbers. If you carry condiments and other cooking products, you will want to know about these high-quality innovative dressings. More than just a topping for salads and cold pasta, these dressings offer creative blends in combinations to tickle your palate and entertain your taste buds including balsamic creams, oriental marinades, spicy pepper seasonings, delicious dill ranch, garden herbs and flavoured vinegar.

1.
Balsamic creams
Balsamic creams come in a variety of spicy, fruity, or basic creams to enhance any dish. The line created by Mussini is intended to be used as a multi-tasking flavour favourite for baking, frying, marinating and more. Cream dressings also make excellent sides for French fries.
2.
Sesame Orange Dressing and Quick Marinade
One example of a specific, ethnically flavoured dressing is DREW's Sesame Orange Dressing and Quick Marinade. It is made with vegan ingredients and can be used to enhance the flavour of an oriental meal or provide a contrasting flavour. It is made in Chester, Vermont, USA.
3.
Roasted Red Pepper Vinaigrette
Simply Natural Organic Salad Dressings-Roasted Red Pepper Vinaigrette is made in Washington and Oregon, USA and combines a hearty, robust sauce with roasted red pepper. It is good on steaks, seafood, and anywhere you would enjoy a little extra spice.
4. Dill Ranch Dressing
For a dip that can be used in vegetable platters and alongside crisps, Johnny's Extreme Dill Ranch Dressing provides a powerful flavour. You could also use it to glaze chicken wings, and of course, it adds to any salad. This product comes from Washington, USA as well.
Garden Herbs Salad Dressing
Knorr Garden Herbs Salad Dressing is easy to ship. It comes in individual packages of five per box or other configurations which are consumer friendly. Just add water, oil, sour cream or whatever ingredient the package calls for. Garden Herbs dressing is a subtle, summery taste for topping cut or cooked vegetables and salads or as a mild dip. Knorr products are produced on several continents.
5. Flavoured Vinegar

Mussini offers flavoured vinegar like no other. They come as spicy or fruity and contain no added sugars. Suggested uses for Mussini's high-quality innovative dressings include flavouring for cheese, ice cream, meat, vegetables, salads, prosecco and sparkling wine, and even added to soda or sparkling water.
6. Creamy Caesar

For dairy free but creamy dressing, try Daiya - Dairy-Free Dressing Creamy Caesar. Consumers with issues digesting dairy or those who are allergic will love this alternative to traditional Caesar dressing. Daiya products are produced and available throughout North America.

7. Exotic Garlic & Mango Dressing

Sweet and savoury go hand in hand with The Garlic Box Exotic Garlic & Mango Dressing. This product is made in Ontario, Canada and contains local produce - fresh grown garlic and mango. It is recommended for stir fry nights. Just uncap and mix, heat and serve.

8. Spicy Habanero

LB Emporium Premium Salad Dressing Spice Blend, Spicy Habanero creates simple salsa and spice for all of your Mexican food creations. It is gluten free and comes in individual packets. LB Emporium is created in British Columbia, Canada and available in North America.

9. Caribbean Jerk Seasoning

Club House Caribbean Jerk Seasoning comes as a sprinkle-on spice which can be used as a finishing touch on salad, vegetables, and meat dishes. It contains black and red peppers, herbs and tropical spices. You can mix it with a cream sauce for a smooth yet spicy dip or dressing. It is a brand by Cor. Cor produces high-quality products worldwide for use everywhere.



Stocking a selection of good, innovative dressings will help attract consumer chefs who like to experiment from within the safety of a pre-blended seasoning. These dressings are easy to stock and present well in their containers, in quantities which are consumer friendly. Encouraging the grouping of flavours can offer combinations and choices which may not otherwise have been considered by the home chef. For instances, products which are complementary flavours to other products you already stock encourage larger purchases. Consider innovative new dressing choices in flavours such as oriental marinade, garden herb, spicy pepper, balsamic cream, and flavoured vinegar.